FROM NORWAY
(see links page for information on the Viking Age in Trondheim)
Ole Pederson Hjellupvik 1750 – 1804
Johanne Kristoffersdotter Trongen 1755 – 1843
I
Kristoffer Olsson Hjellupvik Vigen 1784 – 1864
Karen Olsdatter Brandaas 1792 – 1857
I
Johannes Kristoffersen Hjellupvik Svee 1823 – 1896
Beret Dorthea Kristoffersdatter Rian 1834 – 1908

TO AMERICA
Kristoffer Rost & Anne Martha Dahl
Seeking adventure, Krist, his brother John, and friend Chris Carlson arrived from Trodhiem, Norway in 1883, settling in Muskegon, Michigan where they worked in a lumber camp. Young, strong an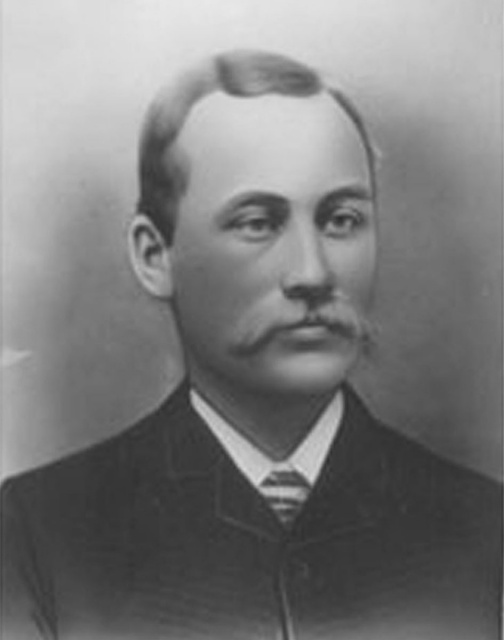 d healthy, logging was exhausting, but good work.
Photo: Young Annie and Krist
The brother changed their surname from Svee to Rost, a practice not uncommon among immigrants. After a few years, Krist moved to Clay County, Minnesota. Handsome and sporting a large mustache, he caught the eye of Anne Dahl. Some say he knew Annie prior to immigrating to the states.
Anne Martha Dahl came to America from Norway with her parents in 1881, settling in Ulen, Minnesota, a haven for Norwegian immigrants. Krist and Anne were married in 1888 in Fargo, North Dakota. They first lived in Hagen and later moved to Tately Grove. In 1908, Krist and Anne moved to eastern Montana to homestead, as did many Ulen, Minnesota immigrants from Norway. They settled
about three miles from Ollie, Montana. Krist farmed as a young man and in later years was the janitor for Ollie High School for 25 years. He was one of the founders of the Ollie Lutheran Church.Together Krist and Anne raised six sons: Carl, Norman, Oliver, Alvin, Arnold, and Elmer. Krist and Anne were very happy together, always laughing and holding hands. They were married for 65 years, until Anne's passing in 1955 (Krist passed in 1957). The two are buried in Baker's Bonneville cemetery. To this day, many Rost descendants remain in Baker.
Photo of Krist and Annie at their 65th wedding anniversary.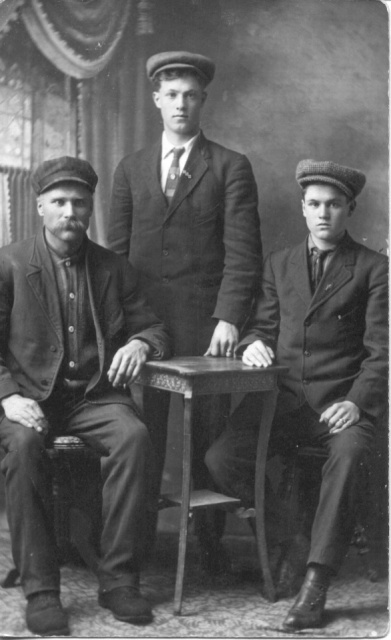 John Rost Family
John found his bride in the United States as well, marrying Ellen Marie Swenson in 1892. John was a carpenter and ran a feed mill at the Ulen Mill for several years. They had five children, Oscar, Joseph, Clifford, Inga (Mrs. Albert Olson), and Ethel. Both Inga and John passed away in 1934.
Norman Rost Family
John Norman Rost (1898–1970) was the second son of Krist and Annie (Dahl) Rost. He was raised in Ollie, Montana. Though born in the United States, Norman spoke with a Norwegian brogue which inherited from his parents. It was most pronounced when he was angry.
In 1919, Norman met a local girl, Bertha Dora Carter, daughter of James Bright and Alice Jane (Brewer) Carter, at a dance in Ollie, Montana. Bertha was quite taken with the neat little man with the good looks who was rather bashful and drove a Maxwell car. They married a year later on May 31, 1919.
Despite a several year age difference, Bertha and Norman were very happy together, even through the difficult times of the grasshoppers and dust bowls that destroyed crops. Norman was a good manager and hard worker but had to go on W.P.A. (Work Power Administration) making $44 a month, $11 of which went for a car to drive to Baker to work. During the week he lived with other men in a shack, only coming home on weekends. Biscuits and gravy were a main staple for the family of eight.
Wedding photo of Norman and Bertha.
Family photo: top row - Alice, Rosie, Reva, Irene. Bottom row - Tubby, Norman, Bertha, and Mervin.
Bertha received second-hand clothes for the children and they had to contend with bedbugs in the old mattresses. Fortunately, the children did not know they were poor, for they had clothes to wear and food in their stomachs. In time, things improved and Norman found a better job and returned home to his young family. Bertha and Norman farmed in Ollie until 1946 when they moved to Baker, Montana. Together they raised six children: Irene, Reva, Tubby (
Merrill), Rosie, Mervin, and Alice.
Norman circa 1918, WWI During World War I, Norman was a machine gunner. The war years were a difficult time for a soldier's family back home. Times were lean with many shortages in food and materials. It was just about this time (1918) that Bertha lost her mother, Alice Jane (Brewer) Carter, to the influenza epidemic that swept the country.
Though some of their children and grandchildren remained in Baker, Bertha and Norman lived in many places throughout Mont
ana to be near their children. In 1965 they moved to Livingston, Montana. In August of 1970, Norman passed way. He was one of the last WWI vets to be buried at Custer Battlefield. Bertha passed away in 1988 and was buried with Norman at Custer Battlefield.
Photo: Norman with Irene, Tubby, and Reva in a water hole.
WWI photos of Norman
Irene Norma Rost and John Thomas Ferrel II
Irene Norma Rost was the eldest of Norman and Bertha's six children. She was born April 7, 1920, and grew up during the difficult years of the Depression.
In 1937 at age seventeen, Irene married John Thomas Ferrel II from Baker, Montana, in a double ceremony with Irene's cousin Florence, and Tom's brother Allie. They were married in Hardin, Montana on their way to Clark, Wyoming to begin married life and work on the Toleman Ranch. Their home during that time was a sheepherder's wagon.
Photo: Tom and Irene with their first car.
Tom and Irene eventually returned to Baker. Childhood memories recall life as one big extended family surrounded by aunts, uncles, cousins and many brothers and sisters with lots of laughter and closeness. Picnics and get togethers in the homes of family and friends to play cards and socialize were great entertainment with little expense. On a hot summer day, a nickle would buy a soft serve ice cream cone, which, unless eaten quickly, would drip down your arm. A real treat was going to the local movie theater.
Trips to a relative's farm at Cabin Creek were especially fun because the children could ride horseback and play cowboys and Indians, or battle to keep the pony from running under a low branch or the clothes line to knock its rider from the saddle. Irene taught at country school for a season in a one-room country
classroom. Too young for school, I went with her each day. I remember her teaching the children how to make change. Some of the students had never seen coins before. In 1957 the family moved to Miles City, then on to Worland, Wyoming.
Irene and Tom were married for 23 years and raised five children together before going their separate ways. Irene moved to Billings and married G. Sidney McDonnell in 1962. They purchased the City Bakery and lived in Red Lodge, MT. Together they had two children, Darla and Shane. She remained in the Billings/Red Lodge area for the remainder of her life. Irene passed away in October 1998 in Billings, Montana. She was a talented artist. As a child I would watch her draw our portraits. She was a trained beautician and cosmetologist. Interested in many things, Irene even learned to fly a plane later in life.
Tom returned to retire in Baker where he passed away in September 2008. Many Krist Rost and Norman Rost family descendents remain in Baker.
Photo: Irene in 1990s.
---